Annual Maple Taste & Tour
We host our 14th Annual Maple Taste & Tour on March 17-18, 2018, from 10 am – 4 pm.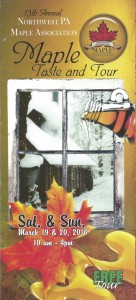 "Premier Exhibitor' Pennsylvania Farm Show & PA Preferred
From I-79 Edinboro exit, east on GN .25 mi., turn left (north) on Fry Road, 2 miles
Free tour and free maple hot cocoa for everyone!! Wear boots & dress warmly.
Sugarhouse: Take wagon or walk to the woods to see how pure maple syrup is made.
Maple Museum has many "Tree to Table"exhibits, kids activities, and the 1957 Newbery award medal for book Miracles on Maple Hill.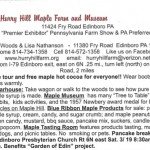 Blue Ribbon Maple Products for sale: pure maple syrup, cream, candy, and sugar crumb; and maple peanuts, cotton candy, mustard, bbq sauce, pancake mix, suckers, candles, and popcorn.
Maple Tasting Room features products tasting, maple hot dogs, and picnic tables. No smoking or pets.
Farmer's Market
Find Hurry Hill Maple Farm at Goodell Gardens' Farmer's Market
each Wednesday 3 pm – 6 pm from mid-June through September.
Homegrown Harvest Festival
We will also be at Goodell Gardens' annual Homegrown Harvest Festival in September.
Literary Landmarks™ Dedication Ceremony
The Edinboro Branch Library and Erie County Bookmobile have been recognized as Literary Landmarks™ in honor of Virginia Sorensen at a dedication ceremony (in partnership with Hurry Hill Maple Farm Museum Association, Friends of the Edinboro Branch Library and Friends of the Erie County Public Library) held on Monday, May 1, 2017.
Virginia Sorensen wrote the Newbery Award-winning "Miracles on Maple Hill" during her time in Edinboro. She drew inspiration from visits to a bookmobile for her children's novel "Curious Missie."
For more information, refer to this press release from the ALA (American Library Association).
Donations
Donations to the association are welcome. We are a qualified 501(c)3 non-profit organization.