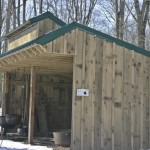 These rocks darkened by fire indicate that at some point in time, someone had a fieldstone fire pit "arch" in this maple sugar grove. Imagine this flat pan over the open arch boiling syrup. Someone long ago made syrup and perhaps maple sugar here. WHO?? Native Peoples gashed notches into the maple trees and inserted a wooden splint. The sap ran down a wooden shingle and into a birch basket, clay pot or hollowed out log, which made a wooden trough. They heated "boiling" stones to "red hot" and put them into the sap to boil off the water. Or perhaps if they had clay pots, they used them over a fire.
Imagine that pioneers used giant iron pots to make syrup and then smaller ones to stir maple sugar. When explorers, traders and pioneers arrived in America, Native Peoples already had well-established methods for turning sap into sugar – that's why we call the place where syrup is made, a sugarhouse! The Native Americans would have traded items with the explorers to acquire an iron pot. They celebrated the sugar month or maple moon with ceremonies and dancing.
Documentation in the mid-1700's indicates wide use of sap as a social and medicinal drink. In the colonies maple sugar was more available and less expensive than the heavily taxed cane sugar coming in from the West Indies. Unlike cane sugar, maple sugar was not produced with slave labor. Our third
president, Thomas Jefferson, thought that if we were to be truly independent of Great Britain we should harvest maple sugar and plant maple trees. Maple sugar was the only sweetener in America for nearly two hundred years.
Pioneers used the brace and bit hand drill and wooden spiles to tap the trees and wooden buckets to collect the sap and cast iron pots to boil the sap. Syrup was boiled down to make maple sugar crumb, cakes or loaves for easy storage. This sugar was traded, bartered, sold and used year round in American households. The pioneers celebrated the "sugaring-off-time" with sugar-on- snow parties, sugar-stirs, and taffy pulls. Hurry Hill uses a gas powered "tapper" and metal buckets with lids, a tractor and wagon to gather sap and a sugar house in which to boil sap down. Hurry Hill celebrates "the coming of spring" with maple hot cocoa made with sap, hotdogs and eggs boiled in sap, and maple apple squares!
(Use the Walking Trail sub-menu above to navigate to other stops on the trail)