Miracles on Maple Hill – The Book and Exhibit
The New York Times Book Review: " Miracles on Maple Hill is warm and real … packed with incident, country magic, family love, and people to remember; it has substance and spiritual worth."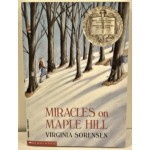 A room in the Maple Museum is dedicated to the award-winning book and its author, Virginia Sorsensen, in the exhibit entitled: "Miracles on Maple Hill: Where the seasons take on new meaning." Visitors can see artifacts illustrated in the book, pictures of places used in the story, photos of people on whom she loosely based some of her characters, information on Sorenson's time in Edinboro and her thorough knowledge of sugaring.
The coveted John Newbery Medal "for the most distinguished contribution to American literature for Children" was awarded to the author in 1957. Through the generosity of Sorsensen's family and Ms. Woods, the medal is on permanent loan to the association. The Newbery Medal is exhibited in the Museum and is often sought out by children, families, teachers and librarians.
At the museum, we have carefully preserved the connection of the book and maple sugaring in the 1950's. Throughout the year, the association presents diverse programs on Miracles on Maple Hill to a variety of groups: senior citizens, garden clubs, churches, museum visitors, tour groups, and civic organizations.