Miracles on Maple Hill – The Book and Exhibit
The New York Times Book Review: " Miracles on Maple Hill is warm and real … packed with incident, country magic, family love, and people to remember; it has substance and spiritual worth."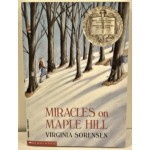 A room in the Maple Museum is dedicated to the award-winning book and its author, Virginia Sorensen,  in the exhibit entitled: "Miracles on Maple Hill: Where the seasons take on new meaning." Visitors can see artifacts illustrated in the book, pictures of places used in the story, photos of people on whom she loosely based some of her characters, information on Sorenson's time in Edinboro and her thorough knowledge of sugaring.
The coveted John Newbery Medal "for the most distinguished contribution to American literature for Children" was awarded to the author in 1957.  You can read the text of Virginia Sorensen's acceptance speech.  Through the generosity of Sorsensen's family and Ms. Woods, the medal is on permanent loan to the association. The Newbery Medal is exhibited in the Museum and is often sought out by children, families, teachers and librarians.
At the museum, we have carefully preserved the connection of the book and maple sugaring in the 1950's. Throughout the year, the association presents diverse programs on Miracles on Maple Hill to a variety of groups: senior citizens, garden clubs, churches, museum visitors, tour groups, and civic organizations.
On June 27, 2015, a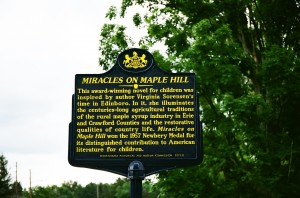 Pennsylvania Historical Marker was dedicated in honor of Virginia Sorensen, her book, and and the maple syrup industry in northwestern Pennsylvania.  The marker is located on the sidewalk of the Edinboro branch library on historic Route 6N (Plum Street) on the Caldwell Banker property of Culbertson Stables.
After the dedication ceremony, there was a performance of "Annie-get-your-gun!", a short humorous vignette adapted from the book by Edinboro's playwright, Michael Hall (Edinboro High Class of '58) who also directed the performance.  The work is copyrighted, but schools are encouraged to download the script and to stage their own performances.
The Edinboro Branch Library and Erie County Bookmobile are also to be recognized as Literary Landmarks™ in honor of Virginia Sorensen, and will be dedicated in a ceremony on Monday, May 1, 2017.  See our Events page for more details.
An audio recording of the book is available on YouTube, in four parts:
Michael Hall has published a collection of related photographs on his bullinthehallway.com website: